Small But Strong Neo Magnets
Miniaturization and portability have been trends in many industries. Rare earth neodymium magnets are the strongest magnets in the world. Even a very small magnet is very powerful. Therefore, it plays an important role in reducing component volume, making end devices smaller and smaller. For example, thanks to the small but powerful NdFeB magnets, consumer electronics are getting smaller and thinner.
From speakers, receivers, vibration mode motors, head feedback motors, to voice coil motors in camera autofocus mechanisms, magnets have become an indispensable part of consumer electronics. And Apple's high-end smart mobile devices have taken advantage of neodymium magnets to create their own unique product ecosystem.
Whether it's an iPhone, iPad, or MacBook, they all have many tiny NdFeB magnets inside their bodies. The iPad Pro, for example, contains as many as 102 magnets in order to better adapt to other products. This also accidentally makes the tablet computer can be directly used as a refrigerator magnet. These magnets in iPad Pro have four functions, namely wake-up function, magnetic attraction, magnetic fixing and magnetic connection.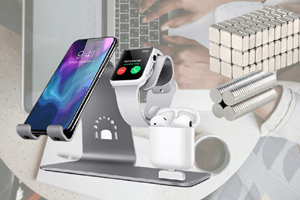 Magnets are made of metal and conduct electricity. In 2006, Apple incorporated it into the power connector on laptops, where high-frequency operation is required: it stays securely "attached" to the connector when you need it, and easily separated from the body when you don't need it.
This year, iPhone 12 uses a new generation of MagSafe. It's not just a magnetic interface, it's a whole set of design concept. The iPhone 12 has an integrated charging coil and magnet array,  which can be correctly aligned with the wireless charger for efficient charging. The magnetic accessory of MagSafe also contains a corresponding magnet, which can be easily attached and stacked for use.
Tiny Strong Neodymium Magnets in AirPods
Starting in 2017, AirPods set off a wave of the TWS true wireless Bluetooth headset market. The entire TWS industry chain has experienced explosive growth as a result of the AirPods. Magnets are the core component of TWS, and the AirPods and their charging case use multiple small round and square magnets. We have seized the opportunity of rapid growth in the TWS wireless headset market and greatly increased sales revenue.
Small Flat Magnets in Smart Cover
When Apple released iPad 2 in March 2011, it included a custom-made Smart Cover. This is a magnetic protective Case. Like MagSafe, the Smart Cover "snaps" onto the edge of iPad and its metal hinge automatically attaches to the side of the tablet.
Strong Neodymium Magnets in Apple Pencil
Two generations of the Apple Pencil are also included magnets. The difference is that the first generation Apple Pencil only uses rare earth magnets for the charging cap, while the second generation has three built-in neodymium magnets on the flat side of the pen body, so that it can be attached to the side of the iPad Pro and indirectly provide wireless charging capabilities.
Small Strong Magnets for Magnetic Attachment, Connection, Storage
Small strong magnets allow Apple to avoid destroying the integrity of the product's appearance. At the same time, it eliminates unnecessary lock structures for many of its products, making the products truly simple and consistent. For most users, they may not even notice the presence of permanent magnets when they connect products and accessories. These strong small magnets work quietly inside the phone case. The invisible maintenance is obviously the greatest value of small strong neodymium magnets for Apple devices.
The unique charm of magnetic design makes small rare earth magnets one of the favorite materials for product designers. Tiny strong NdFeB magnets are increasingly being used in novelty items. If you want to know more things that use magnets in everyday life, please visit 55 Amazing Applications of Permanent Magnets in Daily Life for more information.
Small Strong Magnets Manufacturer For Personal Electronics & Accessories
China Magnets Source Material Ltd. has focused on producing Neodymium Magnet in personal electronics and accessories for many years. Our TWS magnets have successfully entered the TOP mobile phone supply chain system, and we are also happy to help product designers create products with strong neodymium magnets, and provide tens of thousands of high-quality neodymium iron for many new concept products on the market.
If your new product project needs rare earth magnets used on plastic, rubber, wood, metal, aluminum or any other material, please feel free to contact us, we're here to help you and answer all your questions.