Pot magnets are made from permanent magnets in a custom durable metal shell. Magnets and hardware are secured with glue (326). Here the permanent magnets can be extremely strong neodymium magnet or high temperature SmCo and alnico magnet, or economical ferrite. The role of the steel housing in such magnetic assemblies is to increase the magnetic force on the working surface and as well as to protect the magnets.
Pot magnet assemblies are not only the perfect alternative to single magnets, but they can also meet some special requirements that cannot be met by a single magnet. Sometimes even the cost will be lower than a single magnet.
Permanent magnets are known to be hard magnets and they are very fragile.
The inclusion of metal hardware solves the disadvantage that permanent magnets cannot be drilled with threaded holes and provides more options for fixing magnets to other non-ferromagnetic objects, whether it is standard hardware (nuts and bolts) or various hooks. This is why cup magnets are so popular, both in production and in everyday life.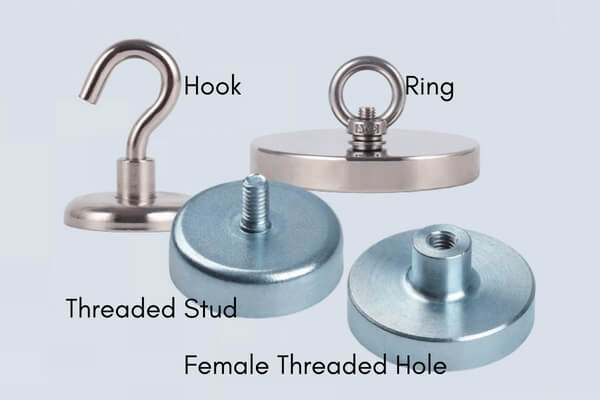 Due to different accessories or specific uses, the cup magnets are subdivided into more types.
According to the fixation method, there are six main types of pot magnets:
Bi-pole Pot Magnets

: A bi-pole pot magnet has a thin magnet in the centre with two mild steel poles on either side, surrounded by a shell, hence its name. This is known as a sandwich magnet system.

Countersunk Pot Magnets

: These have a countersunk hole on one face, which allows them to be easily mounted using a screw.

Through Hole Pot Magnets

: These have a hole through the center, which allows them to be mounted using a bolt or screw.

Internal Threaded Pot Magnets

: These have an internal thread on one face, which allows them to be easily screwed onto a threaded stud or bolt.

Stud Pot Magnets

: These have a threaded stud on one face, which allows them to be easily screwed into a threaded hole or nut.

Hook magnets

: The hook pot magnet has a hook or eyelet attached to the top of the metal casing, which allows it to be easily attached or hung from a variety of surfaces. They are commonly used in a variety of applications, including retail displays, trade shows, and exhibitions, workshops, garages, and other industrial settings.
Depending on the shape used, cup magnets are divided into:
Round base magnets

(they are mostly round and are mainly used as lamp holders for vehicle signs or light bars);

U channel magnet systems

(also rectangular pot magnets, they are usually square in shape and used for latching purposes);
And other

custom shapes pot

.
Depending on the magnet material used, cup magnets can be classified as:
samarium-cobalt pot magnets

;

neodymium pot magnets

;

ferrite pot magnets

;

alnico pot magnets

.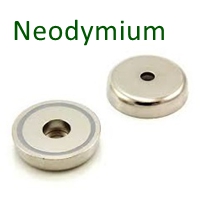 cost-effective
strongest magnetic force
surface treatment required
working Temp.: 80-200 ℃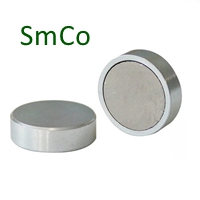 expensive
strong magnetic force
good anti-oxidation
working Temp.: 250- 350℃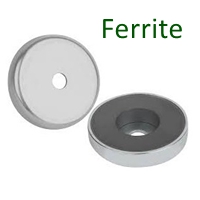 cheap
less magnetic force
good anti-oxidation
working Temp.: 250℃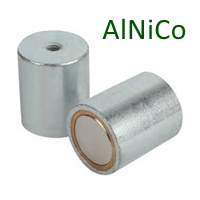 cheap
weakest magnetic force
good anti-oxidation
working Temp.: 550℃
rectangular
good closure systems
strong neodymium magnets
durable stainless steel housing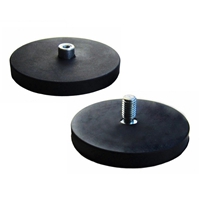 friction
rust-proof
waterproof
scratch protection
Choosing the right pot magnet for your application involves considering several factors such as the required holding force, size and shape of the magnet, operating temperature, and environmental conditions. Here are some steps you can follow to choose the right pot magnet:
Determine the required holding force

: This depends on the weight and type of the object you want to hold or attach. Make sure to choose a magnet with a sufficient holding force for your application.

Consider the size and shape of the magnet

: Choose a pot magnet that fits the available space and has a shape that is compatible with your application.
Determine the operating temperature range: Pot magnets have a maximum temperature range that they can operate in. Make sure to choose a magnet that can handle the temperature range of your application.

Consider the environmental conditions

: Pot magnets may be affected by environmental factors such as moisture, corrosion, and exposure to chemicals. Choose a magnet that can withstand the environmental conditions of your application.

Consult with a magnet supplier

: If you are unsure about which pot magnet to choose, consult with a reputable magnet supplier who can advise you on the best magnet for your application.
China Magnets Source can design and manufacture various pot magnets according to your specific requirements. Need a quote, or want to know more about custom service, you are always welcome to contact us!
The iron shell changes the original magnetic circuit of the magnet so that most of the magnetic energy is concentrated at the edge of the metal cup, resulting in a strong pull force on one side. Thus, a very small pot magnet can have a stronger holding force.
Hard magnets are brittle and if they accidentally slam into each other or hit the steel surface they will chip or break. The iron shell is the first layer of protection, while we will also design different methods to prevent the magnet from breaking according to the situation.
Our pot/cup magnets are available with countersunk holes, screw holes or through holes to make installation work easier. The additional metal or plastic accessories such as thread bush, clips, and hooks etc. make it possible to use in more workplaces.
The maximum holding force of a pot magnet depends on various factors such as the size, shape, and material of the magnet, as well as the thickness and material of the surface it is attached to. It's difficult to provide a specific answer without additional information.
China Magnets Source offers custom pot magnets with holding forces ranging from a few pounds to several hundred pounds, and even up to several thousand pounds. Need a quote, or want to know more about custom service, you are always welcome to contact us!
Pot magnet can be widely used to position/hold/mount devices and tools. When you want to hold something in place excellently, pot magnets can easily help you to do so. China Magnetic Source can provide a wide range of cup magnets, including different sizes, forces, and fitted with different accessories to meet your application requirements as closely as possible.
Great tools always helpful, try POT magnet in your product!
Plant construction
Metal construction
Booth and store construction
School, training & studies
Hobby & leisure
There are many wholesale factories in China that specialize in producing custom strong coated pot magnets. It's important to do your research and choose a reputable supplier that can provide quality products at a competitive price.
China Magnets Source is a CERN certificated magnet provider, and we offer a full range of pot magnets to meet the needs of different industries.
Rich experience in design and production
Custom sample available and volume production
Wide range pull force: a few kilograms to several tons
Manual assembly combined with automated assembly
Professional technical assistance: higher force or lower cost
Fast action: custom design + production + worldwide delivery
Happy Customer from big scientist machine to small startups around the world
Sometimes, customers will find the magnet information they need directly from online store and ask us to quote and make sample. For example, this German customer wrote in an email:
Thank you very much for sending the quotation. Please tell us the cost to produce 5 pcs samples of neodymium cup magnets in NdFeB N42 according to standard magnet technical specification attached.
The customer gave us the most complete information and it was reasonable that our samples should be fine, but we were told that:
We have tested the magnets. But it lacks 50% of the power which is needed of us.
Can you make new sample, that the magnet in the same size, but has more power?
We want to test these magnets: with magnet material N50, 5 PCS with H = 4,5 mm & 5 PCS with H = 5 mm, cost these samples like the last time?
So, we started making magnet prototypes again according to the N50 grade. But the second feedback was still a failure. In the end the customer sent us a sample with enough power they want, but with larger size.
Is it possible to make the magnet without changing the measurements with a stronger force?
We need the power of the sample we send you and the measurements of the samples you have send us.
Please make us new samples.
After receiving the customer's sample, we measured it and found that the size was D20 and that the vertical pulling force was up to 16 kg. Given the large difference in pulling force, we confirmed some more information with the customer.
What is the grade of magnet for sample D20x6mm you sent us?
Can you accept changing d2 from 7.22 to 5.22mm or 6.22mm?
There will be no gap between magnet and steel cover, is this okay?
We started working on a new design after receiving the response that no grade information, fixed D2, and no gap is ok.
Due to the limited size, we optimized the interior design of the pot magnet, removed the gap between the magnet and the iron shell, and used magnets with different properties. After continuous professional simulation calculations, finally, the new sample achieved the pulling force of the D20 prototype while retaining the original dimensions D16.

This time the customer was finally satisfied with the sample's pull force. But they also raised a new question:
The sample arrived us. Thank you very much. It looks like good and the improved design and stronger force are okay for us. Is it possible to make a little radius on the outer ring of the magnets. We have marked the point on the attached picture. It would be useful for us to have a radius 1.0 mm (chamfer) . Please speak with your people.
By calculations, we found that R1 will reduce some magnetic force. We think small chamfer ((0.3-0.5)x45°) can minimize impact on magnetic force as much as possible.
Kindly find the impact data of chamfer on magnetic force (analog computation) in attachment. It's okay between 0.3 – 0.5×45°. Please confirm this.
The customer finally accepted our proposal and chose the third chamfer size 0.5 x 45°.
Thank you for your effort in this case.
The magnets arrived us and we had proofed magnets during the incoming goods inspection.
They are good. The Quality of the magnets which you delivered us is perfect.
Next Time I will send you a new order about the magnets.
The material used for the iron shell hardware is mainly A3 steel (Q235A), with a choice of ZnNi alloy, NiCuNi alloy or epoxy plating to reduce corrosion and provide a smooth finish. If there are special coating and salt spray test requirements, it can be specified in advance. We can choose more corrosion-resistant hardware to suit your requirements.
There are two main machining processes for iron shells: stamping technology and turning technology.
Stamping is a production technology that uses the force of stamping equipment to deform the sheet metal parts directly in the mold to make product parts with a certain shape, size and performance. Sheet metal, molds and equipment are the three main elements of the stamping process.
Turning, i.e., lathe machining, is a part of mechanical machining. Lathe machining mainly uses a turning tool to turn a rotating workpiece. Drills, reamers, reamers, taps, plates and knurling tools can also be used on the lathe for corresponding machining.
The Difference Between Stamping and Turning Technology
The lathe has a very wide range of machining, easy handling and fast clamping for turning, while stamping requires tooling, so turning can be better adapted to the requirements of flexible production in small batches; in the case of high-volume machining of high precision parts, a CNC machine with good rigidity, high positioning accuracy and repeatability is required.
In general, the iron shells used for pot magnet do not require high precision, and large quantities are produced through the stamping process, which is also low cost.
In contrast, prototypes are generally produced quickly by means of a turning process. So don't be surprised if you find a difference in appearance between the prototype and the large batch (as shown in the picture below), this is a production method determined by the machining process and production costs.
The exception is when the customer has strict requirements for accuracy and can accept higher production costs. Sometimes a professional customer will state directly that this part can be made by machining or stamping. Most cost-effective method is preferred.
What these pot magnets can hold?
Pot magnets are very flexible and removable fixing tools and they are easily to hold everything from key to display screen.
Do these magnets have a north and a south? Can they repel each other? Do you sell the opposite polarity?
All magnets will contain the South and North poles. It is only the iron shell that hides one pole, so it looks as if there is only one pole. Sometimes they are also called monopole magnets.
The pot magnets have a very strong pull force and are not magnetized in pairs. Usually, the working surface of all pot magnets is the N pole. Therefore, they will repel each other. If you have a need for paired magnetization, you will need to specify this when placing your order.
How to remove the magnet from the metal plate?
Small or weak cup magnets can be pulled straight out. But big or strong cup magnets need to be slid to separate them.
Will the magnet rust in water? Are they waterproof?
Salt water is not good for NdFeB magnets and metal cup as the Ni or Zn plating will corrode (24-48 hrs). If a longer time is required, epoxy plating or other material is recommended.
Can they be used outdoors?
For long-term outdoor use, it is best to choose pot magnet with a rubber cover.
The hole in the middle is smaller so the bolts I already have don't fit.
We can supply not only magnets, but also high-quality matching screws.
Can these magnets be used on toys?
These cup magnets are too strong to be recommended for any toys. Toddlers wouldn't be able to pull them apart. And when they can pull away and suck up again, they may pinch their fingers and get hurt. So never for kids!
Why the pulling force is not as strong as described?
In addition to the performance and construction parameters of the magnet, the pull force of a pot magnet is directly influenced by the material, composition and size of the test object.
We have professional tensile testers for magnet corresponding to a wide range of sizes and suction forces. Our test results (holding/gripping force) are based on the holding force of a magnet against direct pull force when attracted to a clean, flat mild steel surface with a minimum thickness of 6 mm. And the painted, unground or thin metal surfaces will reduce this force considerably.
In practice, the attractive force also decreases with the increase of the air gap, and even a small air gap can have a significant impact on the attractive force. And the contact way between the pot magnet and the object may cause the air gap to be ignored at the same time.
But tensile test conditions are based on ideal conditions. The test result may therefore differ from the suction force in practice. If you really care about the pull force used on your product, we can provide you the cup magnet sample for test.
The neodymium magnets in the steel casing are very strong, but they are also easily broken. How to solve this problem?
Different pot magnets with different solutions. If pot magnet has a hole in the middle, we would advise our customers don't tighten screw to hard or it will crack magnet. For small magnets without a hole in the middle, we will seal the working surface with epoxy. For example, mini pot magnets for pick-up.
If you are struggling with this problem, please feel free to contact us. We will provide perfect solutions according to your actual situation.