Are you struggling with:
Can't find a supplier who fully understands your magnetic assemblies needs?
Don't have enough manpower to assemble magnets into your niche product?
Your accessory manufacturer is not good at assembling magnets?
High scrap rate for magnet assembly?
Don't worry – at China Magnets Source, you can find comprehensive magnet assembly services, including but not limited to:
magnetic assembly design + production
magnet/hardware/plastic part production + assembly services
magnet production + assembly services, hardware/plastic parts customer supplied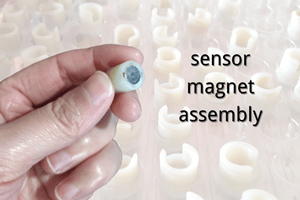 WHAT ARE CUSTOM MAGNETIC ASSEMBLIES?
Custom magnetic assemblies refer to component assembled from permanent magnets and metal, plastic, rubber or other materials according to specific requirements. It can also be called magnetic device or magnetic component, or magnetic system, which is an important form of realizing the functions of magnetic materials. These functions include installation, holding, lifting, display, separation, etc. And these custom magnetic assemblies can be a finished product used in daily life, or it can be an accessory used on a certain machine.
With years of experience in manufacturing magnet products, we can provide high quality magnet assemblies with tight tolerances and complex geometries for worldwide customers.
Our company can provide complete cost and technical solutions through the ESI system (manufacturer's early intervention system), that is, in the early stage of product development, closely working with our customers' engineers from Concept, Simulation to real Prototype.
Early Supplier Involvement, or ESI for short, usually refers to the cooperation between raw material or component suppliers and core manufacturing companies during the development phase of a new product, even at concept formation. This stage is early in the product life cycle, hence the term Early Involvement.
We can calculate the holding force of magnetic assembly. In addition, we can optimize the design with different magnetic circuit structures to obtain greater pull force. And most of the time we do this to reduce the amount of rare earth magnets used, thus achieving a cost reduction.
Custom Embedded Magnets in Component
Magnets are the perfect solution when hidden fasteners are required. They fit right into the concept of modern design: a sense of simplicity in every element. At the same time, the embedded magnets will not be damaged by external impact, and can be processed into more complex structures and obtain excellent dimensional accuracy when combined with other materials, providing superior cost advantages in mass production, thus gaining customers from civilian uses to automotive applications. For example, many daily necessities such as wooden furniture, plastic product, use magnet fasteners. Our built-in magnet materials in the magnet component include:
Non-magnetic materials used in magnetic assemblies include, but are not limited to:
Metallic- stainless steel, aluminum, etc.
Nonmetallic – plastic, nylon, rubber, etc.
The magnet component we can provide include but are not limited to:
magnetic bearing
stack magnet assembly
Application range of magnetic components includes but is not limited to:
automation
daily necessities
mechanical equipment
consumer electronicproducts
Embedding magnets has never been an easy task. Like built-in magnets in fabric, wood, stainless steel, we need to consider which installation method is the most reliable and which magnet has the most suitable magnetic force.
If the encapsulated magnets is in a plastic product, we also need to consider the operating temperature of the neodymium magnet, because the high-heat of injection molding may cause the magnet to demagnetize (exclude those small plastic parts that can be magnetized after inserting the magnet) .
Magnet Integration Options includes but is not limited to:
Glue
Screws
snap-together construction
Insert Molding    Magnets are embedded into the plastic component.
Ultrasonic Welding:  2 plastic parts are fused together by localized ultrasonic vibrations.
Magnet Installation Service Provider
China magnets source has accumulated rich experience in the manufacture of magnetic components. We can also provide customers with value-added services such as the bonding and assembly of magnets to magnets and magnets to other components.
Assuming that your non-magnet parts (such as plastic) have already been molded and produced by other suppliers, we understand that repeated molding would be a waste. Therefore, we specially provide magnet assembly service for our customers. As long as you send us the accessories, our skilled installation workers will finish the installation for you quickly.
As supplier of CERN, we provide high-quality rare earth magnets and component for the world's largest accelerator project. Maybe our price is not the cheapest. But, our world-class team of experienced and knowledgeable staff members are committed to manufacturing all kinds of custom magnet component, assembly. And we are super duper easy to work with as well. We might be the only company in magnet industry that you can reach 24/7.